Our network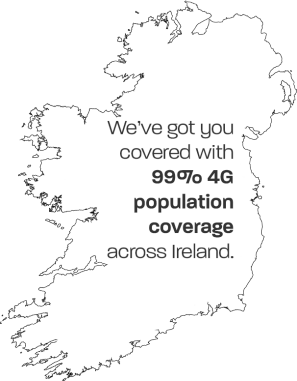 Popular questions
What do you mean by a maximum speed of 5Mbps?
---
5Mbps is the maximum upload and download speed your unlimited data plan will reach. With no fair usage limit on your data there's no fear of running out of data. Stream a HD Netflix show, download your Spotify playlist or upload your latest story.
Can I tether my phone to other devices?
---
Tethering on our network may not be possible on certain Apple devices. This is being reviewed with a view to have a resolution in place shortly. For other devices, your unlimited data with a max speed of 5Mbps will still apply when tethering on your device.
Mobile data speed
Mobile data speeds
---
Your mobile data speeds refers to how fast your mobile connection is. We measure it in Mbps (megabits per second) and the higher the Mbps the higher the speed of data connection on your device. In practice this impacts how quickly you can send and receive information, like loading Instagram posts, listening to music, streaming videos, downloading or uploading files or making video calls. There are a number of generations of mobile network available including 2G, 3G & 4G and the mobile data speeds increase with each generation of mobile network. The maximum speed is also set on your price plan.
Estimated maximum speed
To ensure transparency, and in accordance with regulations, we provide you with an estimated maximum upload and download speed for your mobile service. The table below sets out the estimated maximum speed for your mobile Internet Access Service that we agree as part of your contract for Clear services. We may publish updates to this table from time to time as required however, your contracted estimated maximum speed is that which applied at the time of your contract for services starts. The estimated maximum speeds are those which you would realistically be able to achieve in different locations however the exact speeds experienced across the network will vary and may be higher.
| Network type | Estimated Maximum Download | Estimated Maximum Upload |
| --- | --- | --- |
| 3G | 3Mbps | 0.5Mbps |
| 4G | 5Mbps | 3Mbps |
Factors impacting your speed
It is important to highlight factors which impact your speed, some of which we can control and others which are outside of our control. The factors which may impact your experience, and the speeds you actually receive, include, but are not limited to: the type of device you are using, your selected price plan, your location, the topography (mountains, valleys trees etc) the level of use on the network, whether you are indoors (and may be impacted by the effect of building materials on indoor coverage), and the capacity of the equipment hosting the third party Internet content that you are accessing.
Contacting us regarding speeds
If you experience any continuous issue (such as an issue that occurs continuously over a 1-2 week period), or regularly recurring difference with the speed communicated for your mobile service then please contact us as per the Code of Practice and we will attempt to diagnose and resolve your issue. We will endeavour to resolve any issues on your mobile services as soon as possible within 10 working days. In exceptional circumstances longer resolution times may need to apply and in any case we will look to resolve within 28 days. Any complaints will be managed in accordance with our Code of Practice which is available on clearmobile.ie
If, having gone through our assurance process, it is not possible to remedy a situation where you are not continuously or regularly achieving the speeds that we have communicated and, where the relevant facts are established by a monitoring mechanism certified by ComReg, this may constitute non conformity of performance for the purposes of triggering the right to seek potential remedies available to you under Irish law. You may choose to exercise your rights under consumer protection legislation such as the Sale of Goods and Supply of Services Act 1980 which provides remedies for refund or repair etc., or to exercise your rights under common law for remedies such as restitution or rescission of contract. These remedies may include, but are not limited to, rectification of the issue, the selection of an alternative service, the offer of a discount or you may choose to terminate your service without penalty. In any event, our liability to you will not exceed the limit set out in our General Terms and Conditions for Clear Mobile Service.
January 2021